Although there have been many mice over the years going about their daily lives in the village of Cobblestone Circle, Fanny is the first citizen who is a BEAR!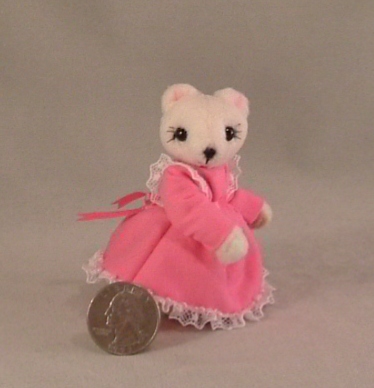 She is made from ivory cashmere mini bear fabric and has needlefelted pawpads.  Her inner ears have been daintily blushed a soft pink.  She measures just over 3 inches to the top of her head.  She is wearing a lovely pink cotton dress that is trimmed with hand gathered and beaded lace at the hem and shoulders.  A tiny pink ribbon sash ties in a bow at the back of her waist.  She is also wearing pink and white pinstriped lace trimmed pantaloons and hos tiny pink bows on her shoes.  She will bring her basket with her.
As with all the citizens of Cobblestone Circle, Fanny comes with her own story, which you can read on my website. 
I invite you to take a moment to become familiar with these charming wee citizens and discover the magic and romance of Cobblestone Circle for yourself.
http://www.cobblestonecreations.net/cir … ockton.htm
$125
Paypal buttons are on my website for the convenience of
immediate purchase for every one of my items.
Layaway is always available.
Email me and we will find terms that will work for you!