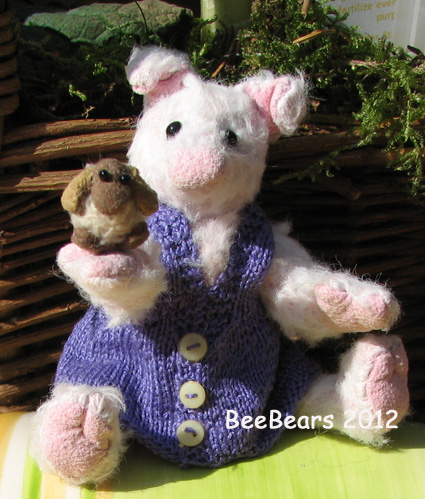 Miss Violett is my first lady pig. She is just 2.8" (7cm) tall and made of viscose and Ultra Suede.
Her arms are wired,so she can hold the tiny sheep "Moppelchen".
Her little sundress is handknitted from a single thread of x-stitch yarn.
The tiny sheep "Moppelchen" is 0,28" (7mm!) tall. It is made the same way as a big Moppel-sheep.
Sewn from the left side,turned and filled with sheep wool.
The ears are 0,12" (3mm) long and YES they are sewn and turned as well…
But I could not get any filling in


I thought to show you Miss Violett and the tiny Moppelchen, would be the best way to introduce you in my "miniature madness"

Have a nice day,
Sabine