I'm on my 3rd kit line, going back to 1992, 2 years after sewing my first bear, and learned a lot along the way. I still have my original patterns, hundreds and hundreds, for both my work and kit designs. All but one creation have been designed with sewers in mind that want to learn techniques and how I do/did techniques, but they were more simplifed than the amount of time and work that I put into my retail work. Trade secrets and all!
I had little Cubblet, a seated polar bear cub of long pile upholstery fabric - as a retail product first; after too many requests I did create its pattern, though I needed to enlarge it as the originals were quite small - 1 & 1/2" tall - and it was hard for even me to turn the legs and paws right-side out: there were many little darts blocking their way along the seams. Thank goodness for the tread-turning method I posted Tues or I couldn't have done it either!
As soon as the kit became available, loads of them sold and the demand for my retail version dried up. Which was OK as I was more than a little tired sewing them by then and had moved on to many other designs.
Someone mentioned taking photos of the bear (for the cover, I think?) and their kits will be ready. If I  can give only one more bit about kit selling success, it's that my customers have always commented on having pictures included that were taken during the progress of creating the bear. Depending upon how well you can describe a method/technique - succinctly and yet fully - the adage about a picture beng worth a thousand words is never truer than here. It also cuts down on the number of words you need to use!
First you make a 'bear' to see how it will turn out, then when everything's as you like it, you make another, which is photographed along the way. Before digital photography and computers I did the drawings by hand. It slows down the progress of the second bear to stop and take it to your photo area, which should be set up permanently (which may cause difficulties by itself!!) to speed this portion up, but it's faster to input pix into kit text than it is to do hand-drawn explanations.
You've all got the right idea: unless you want every kit customer to be able to replicate your 'look' design an entirely different line for kits and for your retail work.
To share something, in burning everything to DVDs that I was able to retreive after my computer loss last week and my massive early spring cleaning last month, I found the very first bear's head I'd ever sewn. It was for a mini pink-blooming green cactus design by Deanne Crim at her first S.M.A.L.L. Tea Party (convention) at her AZ home in 1990. It was so bad that I made another - not much improvement and I threw it away, tho my sister who had been collecting bears for years before that rescued it. She lives near San Jose CA, home of Bears in the Woods, which I understand was the first all-bear shop? Any way - it shows that perseverence pays off!!!
One of our recent threads was about cotter pins & other jointing methods. The subject of paper fasteners like those projecting out through the mesh below the pink head show what I meant in that thread, about why you wouldn't use them: the width of the 'legs' would greatly enlarge the hole in the fabric or seam that you'd insert them through and weaken the joint as you turn the head or the limb. The fasteners do have a nice flat wide attached Head, but cotter pins with loops or Ts function so much better inside the bear.
First bear head sewn: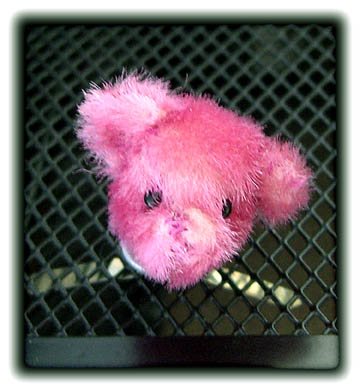 A few weeks ago: