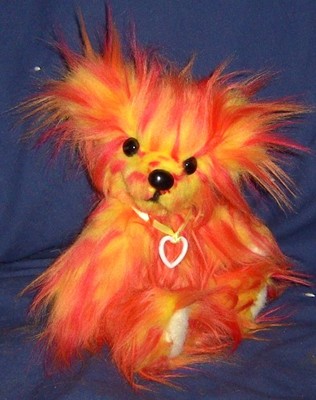 I haven't posted a bear for a while as I have been working on dolls. 
I come and look at all the beautiful bears and critters that are posted on here every day and so admire the work.  Soory if I don't answer every one of you but I would never get any thing else done, but rest assured I do look at all the bears/critters.
Here is my latest bear.  She is kind of weird and bright.  Constructed of a very dense faux fur that has a yellow base with orange and red spikes.  She is 5 way jointed, 9 inches tall and has child safe eyes and nose with yellow plush felt paws and feet.  She is now available on my website.