I agree with Veronica, especially as a beginner. It's far easier (to control the color-bleeding you described) to make a complete body of one color and add the sections of the other color as stripes.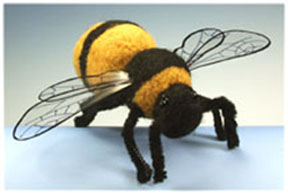 Your choice of fiber (sheep breed) also has a lot to do with the amount of wildness in the hairs you need to bring under control. Some are more prone to being hairy and sticking straight out, while others have more natural built-in crimp or curl and will be easier to bring under control this way.
Learning about the many different breed's fibers available and their inherent qualities so you can choose which ones to match and use for each project is a battle half won!