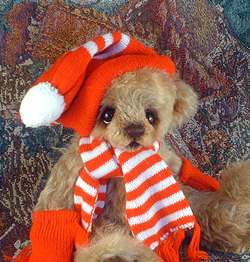 Hi guys!
We have a new little bear for adoption. His name is Cha Cha.
We have a blizzard here today so Cha Cha fits right in to our world today.
This little bear was created from a fun new pattern design of ours and is 9 1/2" tall and 6" when sitting. He was created from 3/4" soft and cuddly tan colored Kid mohair from Intercal.
All of Cha Cha's details can be seen at out web site.
Thanks for peeking!
Hugs Louise and Garnet