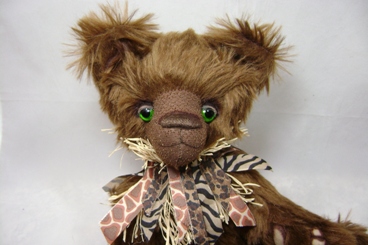 Hello Everyone!
It's been quite some time since I posted on here.  I just finished a new piece this weekend and I wanted to share him!
This is Adama, an African bear of nature.  He is a little different from what I normally do, but I love the way he turned out.  He is a 14" teddy bear made of a brown Schulte mohair.  He has green glass eyes with eyelids that have been hand shaded and he has a brown hand-stitched nose.  He has raised trapunto style paws and feet (or at least my variation of it) 

His paws and feet have all been airbrushed.  His collar is made out of various ribbons and raffia.  His magic staff is made of bound sticks with beads and a pendant.
Please let me know what you think!
Tyler