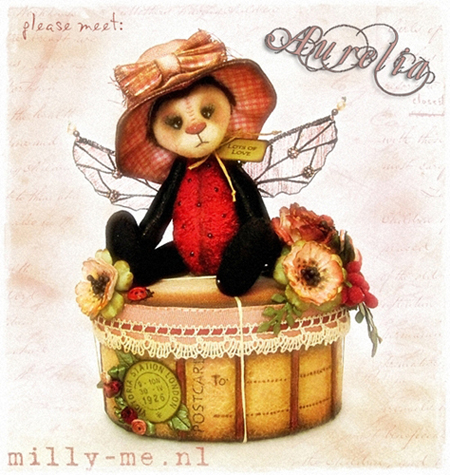 I am so pleased to show you Aurelia.
I am sooo thrilled at how wonderful she turned out.
Everything that you see is handmade and created with deep love & passion.
Aurelia's hat is double layered and it is wonderfully distressed for definition,
trimmed with a ribbon and a handmade ring made off twisted copper wire,
swarovski bicones with other beads and pearls.
The flowers are handpainted and beautifully distressed with accents of morning dew.
I just love these precious colors.
The pictures of Aurelia DO NOT do her justice because they are small
and you cannot enlarge them.
I invite you to visit Aurelia's own webpage where I've uploaded lots of supersized pictures.
You can also find out how to adopt this piece to add it to your own collection!!
She is oh so wonderful and you won't be dissapointed in this charming one-of-a-kind piece.
** CLICK HERE **
to visit the website