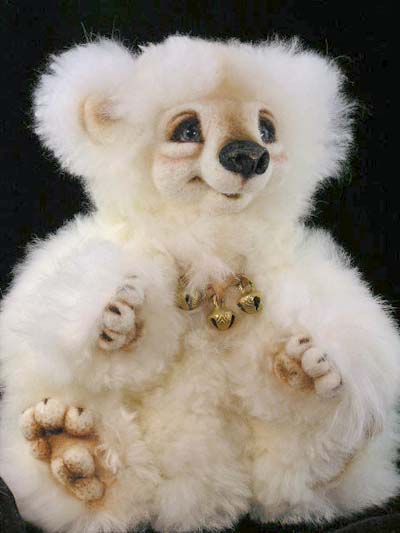 I'm back....I have my darling little three-year-old climbing all over me right now.  It is like a circus here!
Okay, needle felting onto real fur.  I would not recommend it.  HOWEVER, there are ways to get the needle felted effects without actually poking into the real fur.
Here's a photo of a genuine alpaca fur bear Ozzie, with needle felted face, inner ears, and paws.  What I did was to piece in fabric on the face and paw pads  where I  wanted to add the needle felted details on the face.  It blended in nicely with the real fur.  If I were to poke my needle into the real fur it would tear it up and I don't think it would be securely attached to the bear.  Ya with me?
I am a firm believer in "if you don't like it..change it."  IE...Narni ( she sends you a big hug by the way :hug: ).
This is what I would suggest you do.  First of all, detach yourself from any emotional feelings of this bear...because what I am about to say is not pretty........ you will need to cut off your bears face and replace it with fabric.  Hand sew it in place.  Don't worry about how it looks as you will be covering this with beautiful needle felted details.  Think of it as an inset muzzle.  Use your original pattern to cut the fabric.  Cut out the sides of the muzzle and the nose top gusset.  Then start needle felting right onto the inset fabric.  It will work. 
I hope I am making sense.  If not, please tell me and I will very happy to help you.  I love fun projects like this.  What challenge.  Just be patient...and your bear will be the patient.